Free shipping for orders over 35 €.

Up to 100 days for returns.
100% Medium Weight Cotton
Colour is spread directly onto the fibers
Design will not wash away nor fade (dye enters the fiber)
Long lasting color (years)
Eco-friendly
Oekotex Certificate (free of chemicals harmful to body)
ABOUT THE QUALITY OF PRODUCT
Quality
Most manufacturers use petrol (plastic) inks which stick to the surface of the T-shirts. These inks create a rough surface and contain toxic phthalates. But our T-shirts are different! They are printed with the finest water-based inks, which guarantee a beautiful 3D effect. The colour is spread directly onto the fibres, so it doesn't wash off.
Endurance
Our shirts are made of 100% pre-washed cotton (even the fiber holding the T-shirt together is cotton). If you follow the washing instructions (cold water, 30ºC) not only the T-shirt keeps its original proportions, but the motif lasts for many years.
Health
The Mountain products have 100% Oekotex certificate (one of the highest standards in the world) which guarantees that the T-shirts don't contain any chemicals harmful to the human body.
The Environment
Our T-shirts are printed with water-based colours and inks which are enviromentally friendly. All manufacturing processes ensure the protection of our Earth, air and water.
Product code : 101232
Payment information
Royal Mail - 2.99 €
Paid by credit or debit card (in advance) - free
Cash On Delivery - 1€
Free shipping on orders over 35 €
---
If the goods did not fit nor meet your expectations, you can easily return it within 100 days. You can either return the product and we will exchange it for another one (you don't pay any postage for the second delivery) or you can return the product and we will refund the money to your bank account.
We accept only unwashed and unworn goods with original labels for exchange/return. Due to hygienic reasons we do not accept underwear (trunks, shorts, briefs, etc.), swimwear, socks, face masks tried on.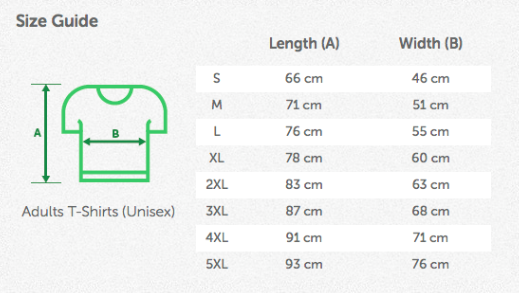 Each t-shirt is produced separately and hand-batiked, which can cause deviation in the sizes shown in the table. The difference in size is ± 5% for the width and ± 7% for length.
How do the T-shirts fit?
Our T-shirts have a looser fit and may be about a half-one size bigger. We recommend to do the measurement at home or to choose a smaller size than you wear normally. In case you wear size S, you can even consider buying children's XL size (children's collection can be found here).
Can I exchange the product for another size?
Of course, if anything does not fit right, feel free to return or exchange it for another size.