Product code: SPR0005
Eco-friendly pencil that carries creativity and joy within itself. It contains a plant that can arise only thanks to you. Which plant do you prefer? Choose your favourite one. Pencils have the plant's name in English engraved on them.
Sprout is a pencil that can be grown. When the pencil is too short for writing, just plant it and you will have a healthy herb in 2 weeks!
Pencil contains a capsule with seeds free of GMOs and pesticides.
When the capsule comes in contact with water and soil, pencil begins to germinate.
High-quality handmade pencil from sustainably harvested cedarwood
100% natural ingredients – no lead or toxic substances
Perfect for someone who always writes out the pencil and then long for a plant
IDEA
---
We live in a society that excessively consumes and throws away valuable and processable things into waste bins. The Sprout Team posed a question: What if I could make and grow the used pencil into something beautiful, delicious instead of discarding it in the trash, and do something good for the world?
This question has given them the idea of Sprout pencils, and that's how the first growing pencil in the world was created. Pencil from which you can grow a tasty and fragrant herb.
Sprout pencils are like a symbol – symbol that we care about how we use things. We care about protecting our planet with love and in a reasonable way. A symbol that even a small change in thinking can bring big changes for the society.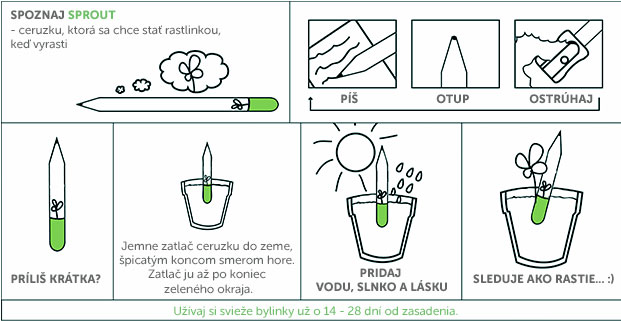 How it works?
---
When the Sprout pencil is too short for writing or drawing, you can plant it. Then just enjoy and use fresh herbs for the preparation of tasty and healthy meals.
Pencils should be inserted into a small pot with fertile soil. Put it in a place with plenty of sunlight and give it a large amount of water. A fragrant and fresh herb will soon grow on your home window. Beauty and little things matter.